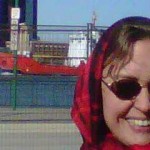 I joined the Museum of Ontario Archaeology as their Executive Director in June of 2012.  This was an exciting change for me as I am now merging my two main passions museums and archaeology.  Prior to this, I was Executive Director of the Brant Historical Society and was responsible for the Brant Museum and Archives, Myrtleville House Museum and the Museum-in-the-Square.
Through Focal Point Resources, I have facilitated planning and community engagement discussions for municipal and provincial organizations, and am the Course Instructor for the Organization and Management of Museums course offered by the Ontario Museum Association.
Prior to coming to Ontario, I served as Executive Director for the Museums Association of Saskatchewan (MAS). During that time I was responsible for overseeing the development of a new strategic plan, significant revisions to Saskatchewan's Museum Grant Program, and the introduction of a marketing campaign to raise the profile of museums in the province. In 2004, I took a one-year leave of absence to serve as Heritage Policy Analyst for the Department of Culture, Youth and Recreation in the Government of Saskatchewan. During this time I redeveloped the Provincial Heritage Property Designation Program and establishing management options for the Saskatchewan Heritage Foundation and Claybank Brick Plant National Historic Site. Prior to working for MAS, I was the Executive Director of the Saskatchewan Organization for Heritage Languages.
I am working towards my Certified Association Executive designation through the Canadian Society of Association Executives and have a Master of Arts in Anthropology from Trent University, a Bachelor of Arts in Anthropology and Political Science from the University of Regina, and a Certificate in Museum Management and Curatorship from Sir Sandford Fleming College.